Interview with Dr Cristina Picardi
Specialist in Radio-Oncology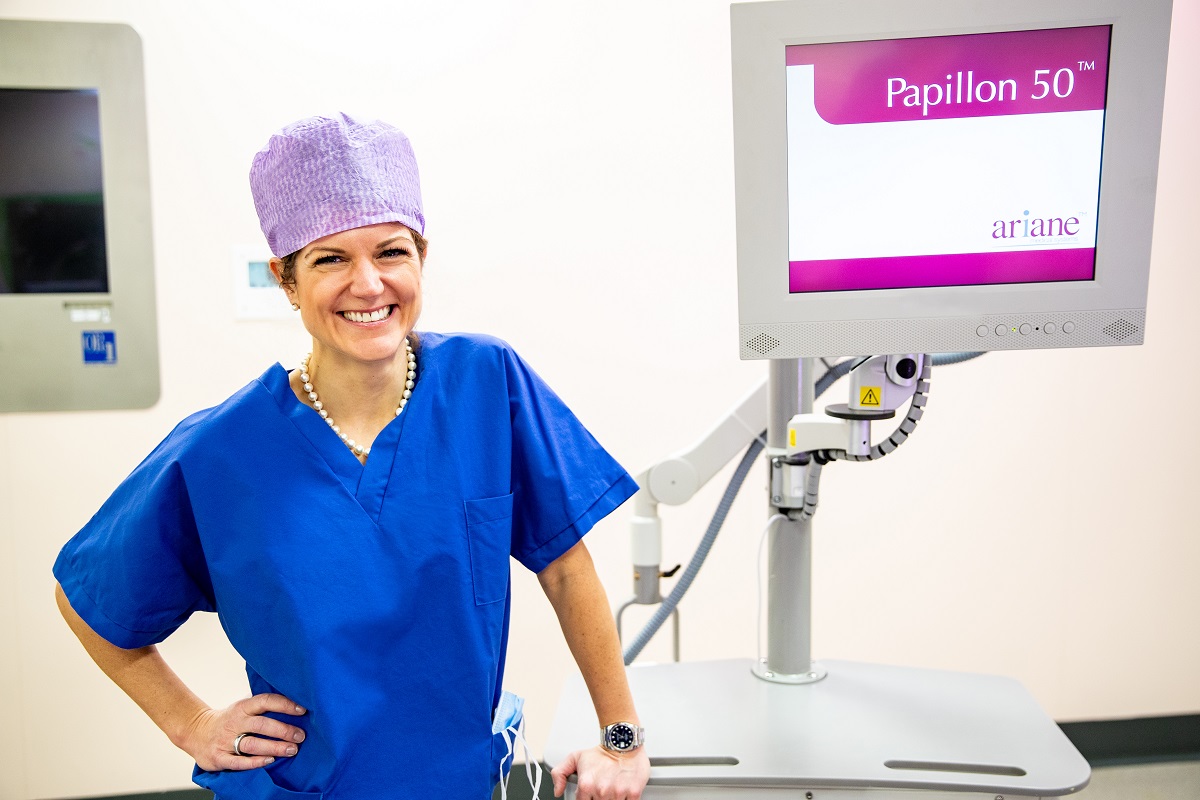 "Colorectal cancer is one of the most common forms of cancer – it is the third most common cancer in men and the second in women."
Rectal cancer is very common, what are the conventional treatments?
Treatment largely depends on the stage of cancer at the time of diagnosis. As rectal cancer presents itself with few symptoms, the majority of cases (approximately 75%) are already advanced when diagnosed. This type of tumor is classified as T3-T4 and standard treatment is preoperative radiotherapy, often associated with chemotherapy, followed by surgery 6 to 8 weeks later. Small-sized non-metastatic T1 and T2 tumors, represent account for approximately 10 to 15% of cases and can be treated by minimally invasive surgery. Unfortunately, the remaining cases are metastatic and require chemotherapy.
What are the cure rates?
The good news is that currently 55% of rectal tumors are cured! However, in 1/3 of cases, the disease is localized in the lower rectum and the treatment of choice consists in anus amputation with the creation of a stoma. The downside is that bowel function often remains impaired after surgery, even in cases where anus amputation can be avoided.
What is contact (Papillon) radiotherapy for rectal cancer and why is it little known?
This treatment uses low energy x-rays meaning that high dose irradiation is delivered only to the tumor and irradiation to the surrounding tissues can be avoided. A rectoscope is introduced inside the anus and positioned in direct contact with the tumor. The highly well targeted irradiation is subsequently delivered at high doses, during one to two minutes. It takes three to five sessions, 1 to 2 weeks apart, to sterilize the tumor. This radiotherapy is performed on an outpatient basis without anesthesia.
Despite thousands of patients already healed with this technique, contact radiotherapy is still relatively unknown. There are several reasons for this, the most obvious being the unaccessibility of machines on the market. In fact, this technique exists since many years as the first x-ray machine prototype was developed in the 1950s. Despite exceptionally good treatment results, the technique was abandoned with the arrival of high-energy photon radiation therapy.
Since 2009 a new machine, "Papillon 50", is available on the market and is today used in the UK, France, Denmark, Sweden and in Clininque de Genolier, in Switzerland.
What are the indications for this specific treatment?
This therapy is recommended for the treatment of small tumors of less than 5 cm for inoperable patients or patients who strictly refuse amputation with the formation of a permanent stoma. This technique can also be combined with external radiotherapy to irradiate adjacent lymph nodes and/or alongside chemotherapy to enhance the efficiency of the radiation treatments for more advanced cancers.
What results can we expect?
International studies conducted on several thousand patients with small cancers classified as T1 treated by contact radiotherapy alone, indicate that 9 out of 10 patients are cured, which translates to a cure rate of 90 to 95%. In patients with larger T2 and T3 rectal tumors, cure rates of 50% to 80% are achieved. It is also of notice that a French clinical trial revealed that 70% of T2 and T3 malignant tumors treated by contact radiotherapy avoided a definitive artificial anus.
Dr Cristina Picardi
Specialist in Radio-oncology
Specialist in General Internal Medicine